Director: Gregory La Cava
Actors: Katharine Hepburn, Ginger Rogers , Adolphe Menjou, Gail Patrick, Andrea Leeds, Lucille Ball
Country: U.S.A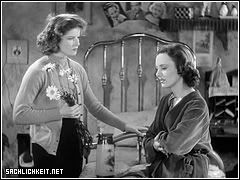 Stage Door… Where to even begin? Terrific directing, terrific script, terrific acting and cast, terrific everything! I enjoyed this film from beginning to end despite having one of my least favourite actresses, Katharine Hepburn.
I won't talk much about the story since I think everyone should watch this so I'll focus on my favourite subject: acting! Despite my lack of knowledge about acting and anything related to it, I really do put much emphasis on it with my own scale of what's good or bad. If the person's acting really hits home with my emotions, I know it's good (for me). I was slightly disappointed with the top-billed actresses (Hepburn and Rogers) because I thought that it was Andrea Leeds' performance that stood out. Hepburn was perfect for the role as Terry since I always imagine Hepburn to be intelligent and witty, but I was surprised to see Ginger Rogers playing a serious role. I've only seen her in her early Warner Pictures and the Astaire x Rogers films and have been annoyed by her for the most part, but I liked her in this role. Despite liking her performance and her character, she was nothing compared to Leeds as the tragic Kay. Oh how I cried every time I watched this film when I saw what happened to Kay in the end because of Leeds' performance. When Terry mentions something along the lines that it was Kay's spirit that was doing the acting, I almost felt as if somehow the character of Kay was playing the role that Terry played in the play. I guess that also means Hepburn's acting was great… well, only in that scene! (I'm always reluctant to praise Hepburn.) La Cava directed Kay's last scene so perfectly that everything about it was effective in adding to the tragedy.
Also, I have to add that Gail Patrick is definitely looking regal in this film! She's the epitome of patrician beauty… *happy sigh*
The dialogue is fast-paced, which makes watching this film multiple times a must. I was surprised to find out that much of the dialogue was improvised in the scenes when the girls are in the boarding house. It just added to my little idea in my head that everyone was funnier, smarter, wittier, and knew how to talk fast back in the days.
Great film and I'll definitely give it a 10/10. I usually hate watching sad films over and over, but this film is one that I could watch any time because it is so enjoyable.
IMDb Link: Stage Door
Where to buy: Amazon.com