Director: Vincent Sherman
Actors: Joan Crawford, David Brian, Steve Cochran, Kent Smith, Hugh Sanders
Country: U.S.A.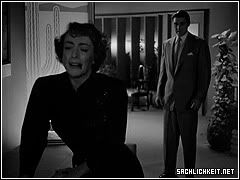 It saddened me to see the great Joan Crawford in this B-movie with almost no glamour and bad acting. The only reason I can't hate this film is because Crawford's performance is excellent, the cinematography, and the quick and witty dialogue. Although this film looks like a cheap movie even from the beginning, somehow ths story and dialogue keeps you intrigued the whole time. I really thought that I wouldn't enjoy this film when I watched the first few minutes of it, but as I kept watching, it got better and better. To see Crawford as a woman who will do anything she can to get what she thinks she deserves made me think how similar her character was to Crawford's own life story. The cinematography is that of a film noir's, which adds to the cheap look of the film. Although Billy Wilder's Double Indemnity made the film noir style look glamourous, this film didn't do such a great job. Nevertheless, the camera movements and the editing was effective for this film although the lighting was a bit questionable at times. I was surprised by the scene when Ethel (Crawford) gets beaten by George (Brian) because I didn't think such behaviour would be allowed to be shown due to the Hays Code. But maybe the censors thought that Ethel deserved what she got.
I really admire Crawford for her acting and how she was able to rise up to become the huge star that she was. While I do admire her and love her as an actor, I can't help but notice how much her face changes. During her flapper era, she was the embodiment of what I thought a flapper was, at least appearance-wise. She had wide eyes, the hair, and the dance movies, and she looked like a girl who wanted to have fun. She definitely matured with her looks as one can see in Grand Hotel and I thought she became even more gorgeous, or should I say glamourous? I thought Crawford was very pretty during her flapper years but I can see why people in the 30s thought Crawford was beautiful. Even I said, "Wowee~ No wonder so many people said she was gorgeous!" But when I saw her in The Damned Don't Cry, I couldn't help but think that her looks became harder and her eyes became more intense and almost frightening. While in some moments of this film I thought I saw her old, beautiful looks, I couldn't help but think that Crawford looked terrifying. And even later in her career, I think that she becomes a shadow of her former self and almost becomes a caricature of herself. Her trademark Crawford smear is almost laughable while also being a bit creepy and her features are so hardened that she no longer has the glamourous look of a beautiful woman. My first Crawford film was The Women and I was head-over-heels with her looks, but my mom remarked, "She looks scary! Well, pretty I guess, but scary…" I guess Crawford's transformation started even as early as the late 1930s. While Crawford's looks have diminished, her acting abilities are still intact. I cannot deny Crawford's talent as an actress and would say that she is definitely one of the best actresses that MGM ever had, possibly even beating Greta Garbo.
I highly recommend this film for everyone. I know that many of my friends who are interested in older films are women, but maybe this can be a film that one can watch with a boyfriend or father since it has action, intrigue, and all the good stuff that appeals to everyone.
IMDb Link: The Damned Don't Cry
Where to buy: Amazon.com