Director: François Ozon
Actors: Danielle Darrieux, Catherine Deneuve, Isabelle Huppert, Emmanuelle Béart, Fanny Ardant, Virginie Ledoyen, Ludivine Sagnier, Firmine Richard
Country: France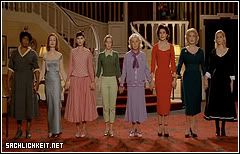 8 (Huit) femmes reminded me of Clue very much and the quirkiness and oddness of Clue can be seen in this film as well. A stylized film with the clothes and furnished backgrounds, it is reminiscent of Kammerspielfilms because everything happens in one building. While I found this film to be cute, I really did not like it as a musical. I did like the musical numbers separately, but I felt like they didn't fit seamlessly into the film. When I least expected a song, someone was singing and it was so jarring that I was taken aback. The songs all reflected the character singing it, and out of all the songs, I found the song sung by Madame Chanel (Richard) to be the most poignant. Despite the film's cute exterior, I felt that the film had something to say about the role of women in various different situations.
I was surprised to find out that Ozon wanted to remake Cukor's The Women but ended up making this film. I have no idea how successful Ozon's The Women would have been (the American remake flopped although I enjoyed it), but I thought that this film had many aspects that were similar to The Women.
It was fun to see an older Catherine Deneuve and to hear her sing! I do believe that all of the actresses in the film sang their own songs and I would be highly disappointed if they didn't. I was upset to hear that Deneuve's singing voice was dubbed in Les parapluies de Cherbourg so when I watched this film, I thought, "Aha! Finally we get to hear Deneuve sing."
I would put this film under the "dark comedy" section because of the mystery aspect and some of the things that happen throughout the film. If you like it the first time, I highly recommend that you watch it again; you'll find so many subtleties and foreshadows that all make sense when you know the ending. I recommend it to people who enjoy cute mysteries with a serious undertone beneath its light and cheery exterior.
IMDb Link: 8 femmes
Where to buy: Amazon.com